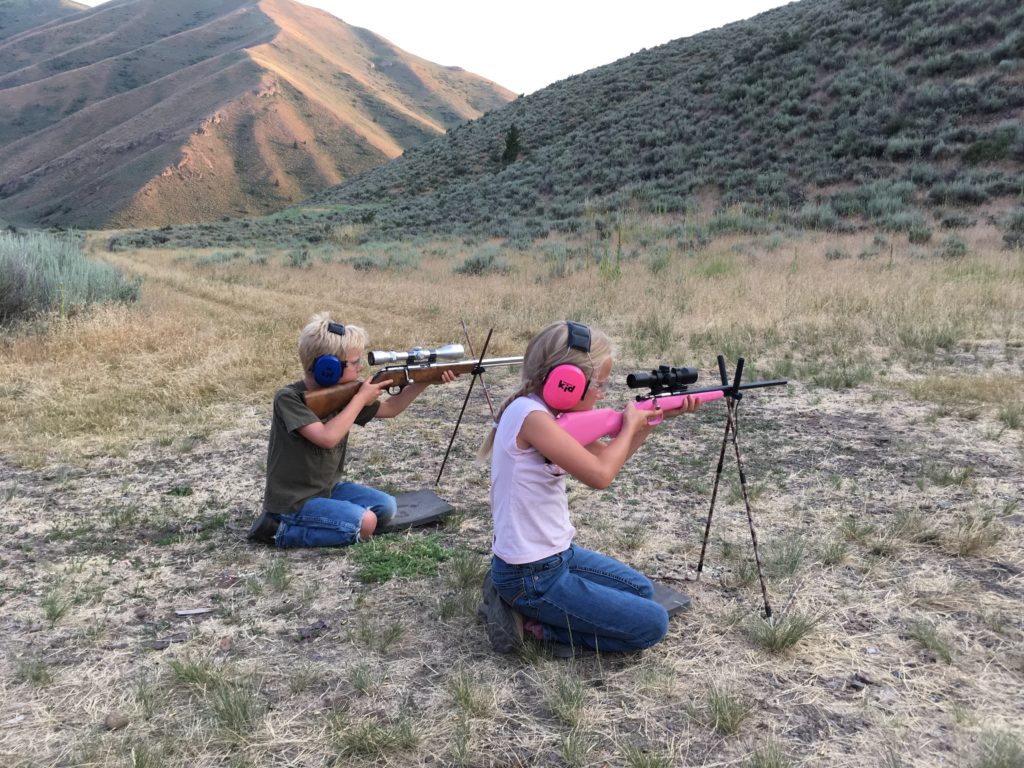 "Nice one!" My six year old son says as he high-fives his sister after she nails the middle of the O on the coke can.
"Your turn, buddy" she tells him, double checking that her .22 is unloaded, then walking over to her dad and handing him her little pink Crickett.
Shooting together has been a part of my kids' lives for as long as they can remember; just as it was for my husband and I when we were kids.

"Why do you take your kids out and shoot? They are too young." We are asked.

"Kids don't need to be around guns. Ever." People condescendingly state.

"They can't even hunt yet, so what's the point." People question us.

"That is dangerous and irresponsible." People accuse.

Guns are not foreign to us, but for some, the thought of a child holding a gun looks less like mom and dad standing behind them teaching them safe shooting practices and much more like a scary image they have seen blasted on media.

So we set out to educate those that do not understand; to clear up the misconceptions and to bring light to the topic.
There are many reasons we take our kids to the range.
1 . There is no one better to take the responsibility of teaching gun safety
to a child than their parents
A parent knows a child's understanding, ability and maturity better than anyone else. We know what our kids are capable of and what they can and cannot handle.
It is a parent's job to keep our children safe and nobody cares about their safety more than we do. If our children ever come across a gun when we are not with them we want them to know what to do and how to handle that situation.
As trained and educated gun owners we are equipped to teach and train our children in firearm handling and safety.
2. We want our children to live free of fear.
Ignorance, inexperience and unfamiliarity breed fear. Taking our kids to the range replaces fear with knowledge, experience, training, confidence and a healthy respect for a firearm.
3. Parents naturally share their passions and interests with their children
We all want to share the things we enjoy and are passionate about with those we love. Shooting is no different.
Shooting was a part of our lives before kids, so naturally it will be something we do with them.
4. Taking kids to the range allows them to step away
from the ever changing culture they are faced with
We live in a generation where kids barely lift their heads from their devices anymore. We believe that kids need to look up, engage and interact with what is going on around them. When handling firearms and shooting there is no room for distractions or having our attention divided. Shooting requires turning off other things and focusing on the moment.
5. Time at the range is an opportunity for time together as a family
Research shows that spending time together as a family not only ensures a child's healthy development, but it also gives a child a sense of worth, a healthy self-image, confidence, a place of acceptance and it lowers their risk of getting involved in wrong activities as they grow and mature.
Being at the range together is one more opportunity to spend time one on one with our kids. We are present with one another at the range.
6. Taking our kids to the range teaches many life skills
that they will use both on and off the range.
Responsibility is exercised in caring for and handling their firearms.
Awareness is practiced as they are engaged in their surroundings, having to look up, look out, look around and look beyond.
They will learn cause and effect in the small things that will transpose into bigger life lessons. Respect will be ingrained in them. Patience will be challenged. Self-control will be expected and a drive to learn and improve will be taken away.
7. Shooting gives our children an opportunity to overcome challenges .
This day and age children tend to want things handed to them, to take the road of ease and parents are delivering.
Shooting counters that by forcing them to work through trial, demanding they persevere. Success cannot be handed to them on the shooting line; hard work and practice is what brings accomplishment. When our daughter discovered she was right hand/left eye dominant it was a frustration, but not an end. She did not give up. She worked harder to overcome the challenge.
Overcoming small challenges now at the range will later give them the confidence to overcome greater challenges in life.
8. Shooting gives opportunity for healthy competition
Not only do we enjoy shooting as a family, but it gives us a place where we can compete in a healthy way; all the while encouraging and spurring one another on. This builds both memories and comradery.
9. Taking our kids to the range prepares them for the future
Shooting with our children early is comparable to the father that tosses the football around the backyard with his kids, despite the fact the child is not yet ready to sign up for the NFL. He does this to expose them to the game, build skills, enjoy the sport together and prepare them for the day they may play 'for real.'
Similarly, a child that has been going to the range since they were young with mom and dad will be prepared for the day when they will handle a gun by themselves, be it for hunting or sport. They will have the knowledge, experience and skill to do so safely and successfully.
10. Shooting with our children instills in them the importance of
exercising their freedoms and sparks a passion to fight for their rights.
We are free to carry and arm ourselves. We are accountable to do that safely and responsibly. We are to exercise our rights and freedoms, to fight for them, so that they will not be taken from us. These things carry over from our second amendment rights to every other God-given right and responsibility we have. We are to teach and train our kids to understand their rights, their freedoms and their responsibilities. And we are to spark a passion in them to stand up and defend those rights.
10. Taking our kids out shooting is so much fun!
So, when we are asked why we take our kids to the range, it is not because we are irresponsible and dangerous, just the opposite actually. We are responsible to train these little ones to be educated, safe and protected and we take that job seriously.
We do it because we need to; because we want to; because it would be irresponsible not to.
And when we are done at the range, we take the guns, lock them up safely out of the children's reach and snuggle up on the couch with them just like any other family!