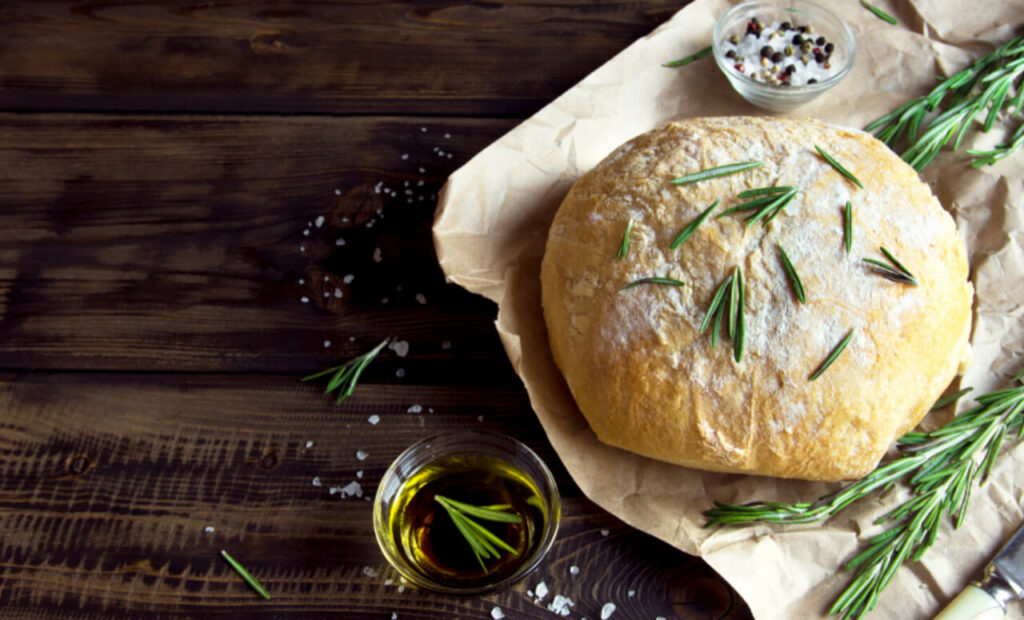 Cooking this olive-rosemary bread in a cast iron skillet creates a crisp outside and soft inside, the perfect complement to any meal!
Ingredients:
1 package active dry yeast (2 ¼ tsp if measuring from bulk)
2 cups lukewarm water
4 1/3 cup all purpose flour
½ TB salt
Olive Oil
Rosemary
Coarse Salt
DIRECTIONS:
Combine yeast and warm water in a large bowl or pitcher
Using a wooden spoon add in 1 cup of the flour and then the salt and mix until combine. Stir in the rest of the flour, one cup at a time until completely incorporated.
Cover with plastic wrap. Allow to rise for 1 hour.
Do not punch down the dough. Lightly oil the bottom of a cast iron skillet (a 10" or 12" skillet works best.) Sprinkle a good amount of flour on top of dough and then cover hands with flour. Take all the dough and shape into a disk (it will be sticky.)
Place in the skillet, cover loosely with a towel and allow to rise for another 30 minutes.
Heat oven to 400.
Drizzle top of bread with olive oil.
Slice dough with x.
Sprinkle with coarse salt and rosemary
Bake for 35-40 minutes until top is deep brown.
*This same recipe can be used to make a sweet bread: replace olive oil with butter and rosemary and salt with sweetener, cinnamon or fruit.
---