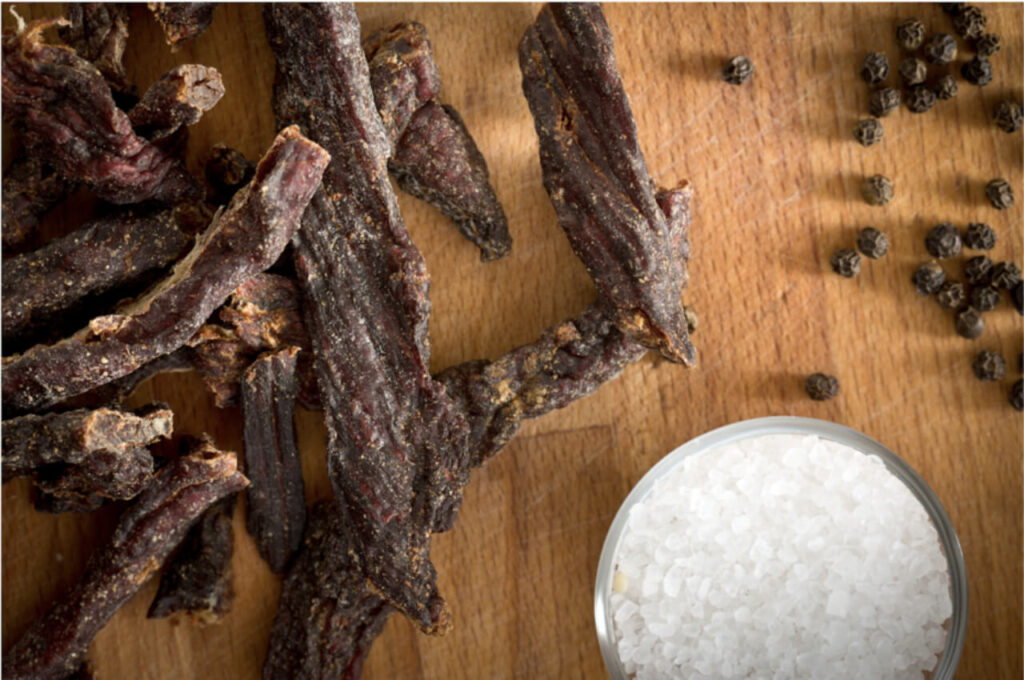 Jerky. The iconic wild game fare that makes acquaintances instant friends and brings the beggar out of all.

What few know is that you don't have to be at the mercy of others, negotiating away your life just to get a small morsel of this highly demanded meat; jerky can be made by anyone right at home.

Why Jerky?

This most-requested meat is loved by hunters and non-hunters alike and is a great way to introduce wild game to those that are not accustomed to it.

Jerky can be made using a variety of recipes to accommodate many dietary needs and flavor preference.
When using clean ingredients, jerky is healthy, pure and full of protein, making it the perfect food to provide energy on your next hunt.

Not only is jerky a great way to preserve meat, it also frees up freezer space and can easily be made at home with a few simple pointers.
Tips and Tricks for Successful Jerky Making
When it comes to choosing the cut of meat to use, there are many options:
-Using scrap meat is a great way to utilize less desirable cuts of meat.
-Using larger, more tender cuts of meat, such as a roast or steak, produce
nice, uniform pieces of jerky without much grizzle, in order to eliminate
chewiness.
Do not fully thaw your meat.
Partially frozen meat is much easier to slice into thin, consistent pieces.


Cut with the grain of the meat for a chewy, soft texture,
Cut against the grain for a crisper jerky with more of a snap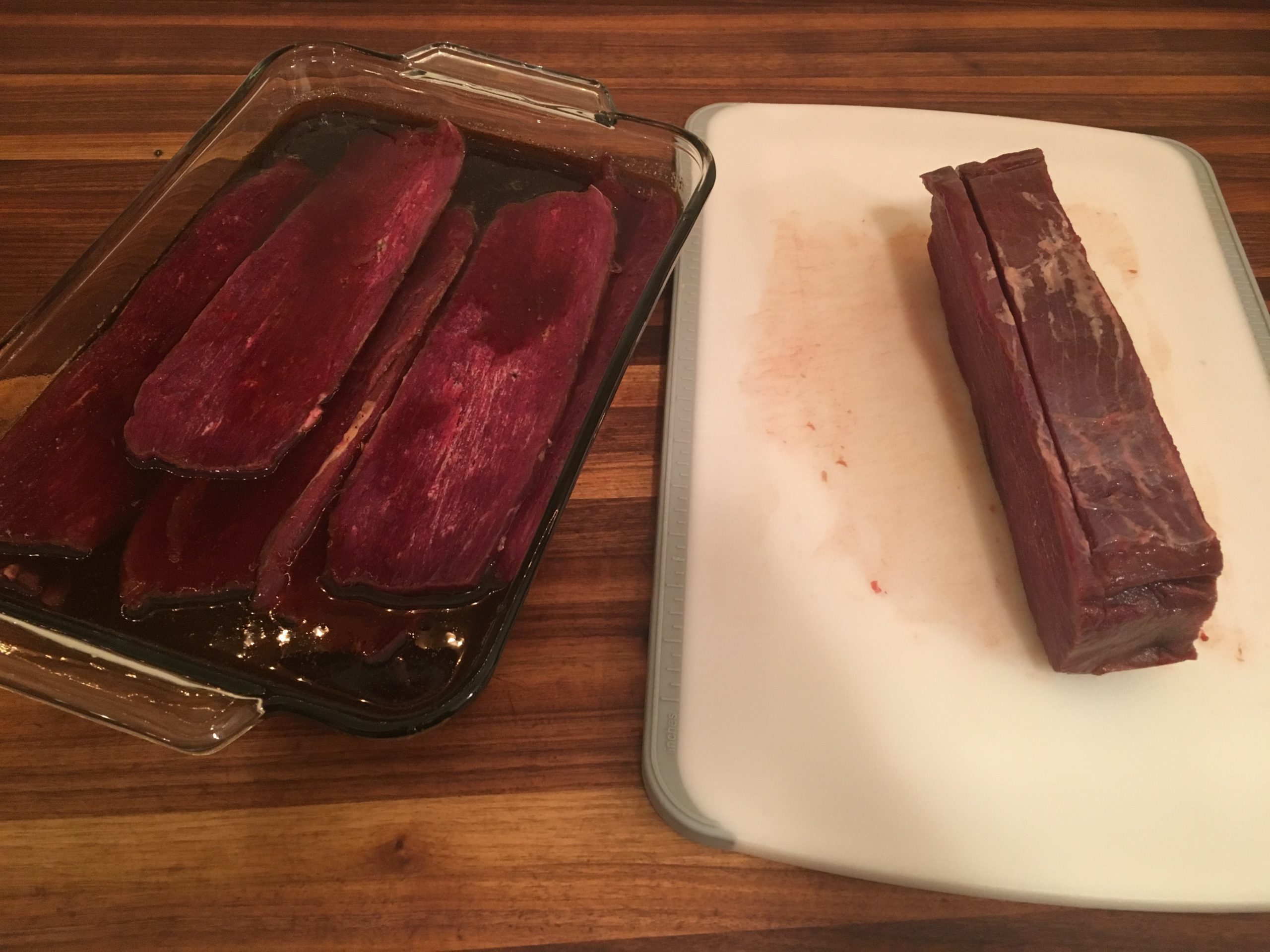 Slice your pieces between 1/8 to a ¼ inch thick.
Keep in mind, the thinner the cuts; the faster they will dry.


Once your meat is sliced, prepare a marinade of your choice.
Jerky can be made sweet or spicy, fruity or smoky, hot or mild. The possibilities are endless and totally customizable to your liking.
For a sweeter jerky, add maple, for a more savory jerky, use a combination of seasonings and spices your family enjoys. (See below for our go-to jerky recipe that is sure to please just about anyone!)


Allow meat to marinate in the fridge for at least 24 hours, or as recipe indicates.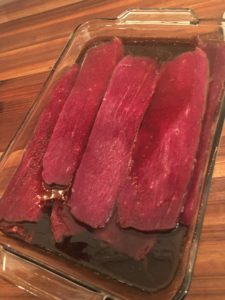 Once marinated, your meat is ready to dry. Although a dehydrator or smoker can be used, they are not necessary; jerky can be made in an oven.
Lay meat on racks and set temperature and timer.
(smoke time varies with smoker)
If using a dehydrator: set temperature between 145-155 degrees and dry for 1.5-2.5 hours. (Dehydrators may vary)
If using an oven: turn oven to lowest temperature (around 170 degrees) and crack door open. Let meat dry for anywhere between 4 and 7 hours.


Take meat out while it is still malleable as they will continue to harden after being removed.

After jerky is finished, store in a secret hiding place to ensure it does not disappear within days.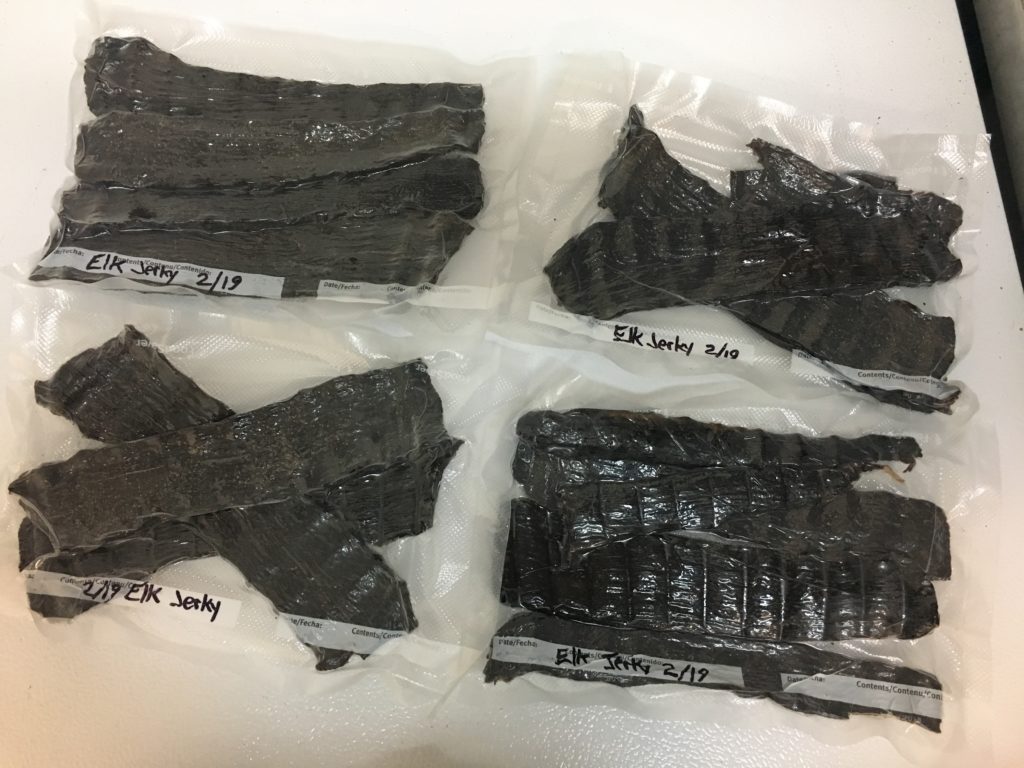 Teriyaki Jerky
INGREDIENTS:
4 lbs. wild game
10 oz Teriyaki sauce
1 cup sweetener (can use coconut sugar/date sugar/ brown sugar or other sweetner of choice)
1 cup red wine vinegar (or red wine)
1/2 teaspoon Garlic Powder
1/2 teaspoon cayenne pepper (more or less depending on taste)
1/2 teaspoon onion powder
1 teaspoon salt
1 teaspoon pepper
*(optional)-if using dehydrator or oven, add 2 teaspoons Liquid Smoke to marinade.
DIRECTIONS:
Cut meat into thin strips
Mix remaining ingredients together until sugar is dissolved
Pour marinade into shallow, glass baking dish
Lay slices of meat into sauce, making sure all meat is covered.
Cover and let sit in fridge 2 days.
Smoke or dehydrate meat until done.
*Smoke with one pan of mesquite chips