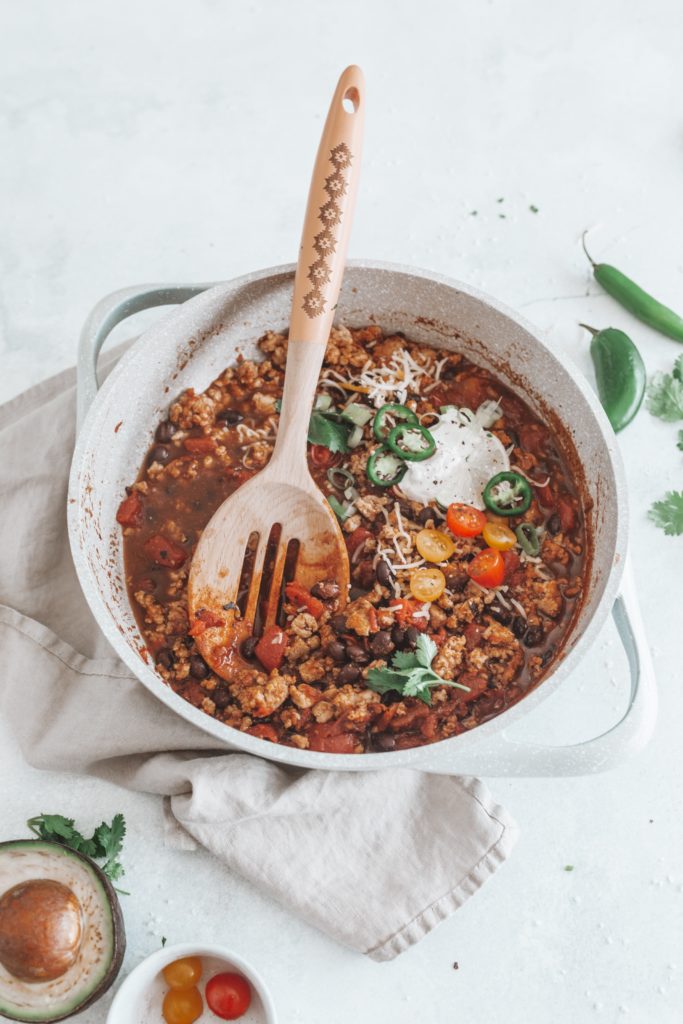 I have never been to a chili cook-off but I hear they are fierce, with recipes mastered to perfection; chili that has taken all day to make, with "secret ingredients" one has to travel long and far to obtain, ingredients that set these bowls apart and make people shamelessly beg for the recipe. 

That is not this chili recipe.
This chili recipe, passed to me from my mother-in-law, is for the busy mom, the last minute meal, or someone who would rather spend their day outside enjoying the creation that surrounds them than cook all day, yet still want to come home to a warm meal.
Although this recipe will not win any awards and there is no 'secret ingredient,' it will leave everyone leaves satisfied, and around here, that is the goal! 
QUICK & EASY CHILI
Ingredients:
1 lb. ground wild game, ground
2 cans chili beans
2 cans kidney beans
2 cans pinto beans
1 can creamed corn
2 cans diced tomatoes
1 can green chili's
1 onion
Salt
Chili powder
Directions:
Brown wild game in stock pot
Add remaining ingredients, season with salt and chili powder to tast
Cook through
Serve with shredded cheese, diced raw onion, sour cream, diced cherry tomatoes, jalapenos and crackers or cornbread (recipe below)
Tips and Shortcuts
– To save time, eliminate onion and use canned diced tomatoes with onions included
-This can be made in a slow cooker. Simply add all ingredients, uncooked and cook on high for 8 hours.
-To make the chili go farther and feed more, add cooked spaghetti noodles, broken into 1 inch pieces.
SKILLET CORNBREAD
*for a faster and easier meal, head to the store and buy a boxed cornbread but if you want to 'up your game' then serve your easy-chili with this homemade version.
Ingredients:
1 cup yellow cornmeal
½ cup all-purpose flour
1 TB baking powder
1 teaspoon salt
1 cup buttermilk
½ cup milk
1 egg
½ tsp. baking soda
¼ cup plus 2 TB shortening
Directions:
Preheat oven to 450F
Combine cornmeal, flour, baking powder and salt in bowl.
In separate bowl, mix buttermilk, milk and egg.
Add baking soda to wet ingredients, stir.
Pour wet mixture into dry ingredients. Stir until combined.
In spate small bowl, melt ¼ cup shortening.
Slowly add melted shortening to the batter, stirring until combined.
In cast iron skillet, melt the remaining 2 TB shortening over medium heat.
Pour batter into hot skillet, spreading out to even the surface.
Cook on stove top for 1 minute then transfer to oven and bake until golden brown (20-25 min.)

ENJOY!