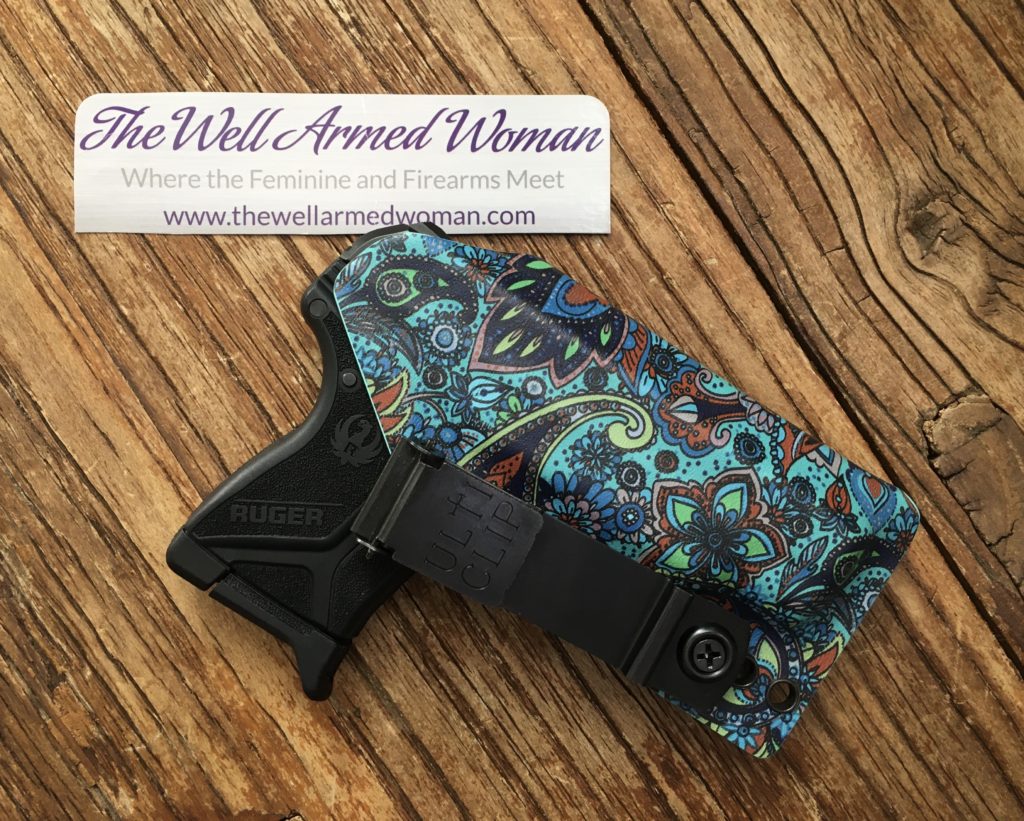 As parents, we cannot rely on anyone else to do the job we were given and as a mom I believe it is not only my right, but my duty to protect my children (you can read about that here)

There are many ways that we protect our families, ourselves and our homes; one is to arm ourselves so that we can defend those we have been entrusted to protect and care for.

When we chose to carry a handgun, it is imperative that we carry responsibly including having a holster that is safe and effective for the situations we are in.

With little one's always digging in my purse for gum and lost toys, carrying on my body is a far better option than carrying in a conceal carry purse (no matter how cute they are!)

An in the waistband holster allows me to be in control of my firearm at all times and not have to worry about little hands ever landing on it. I have the peace and confidence knowing that I am doing my job to protect my children, while safely and effectively carrying my handgun.

The problem I have run into is that many IWB holsters are bulky and cumbersome, making them uncomfortable and impossible to conceal, especially for someone with a small frame.
Others are 'sloppy' making me nervous every time I bend over.
As a mom, I am on the go; up and down; in and out. I need a holster that stays in place and is comfortable and reliable. I can't afford slipping and sliding, poking and prodding.

I decided to try a holster specifically designed for women by a company that is much more than just a holster company.


The Well Armed Woman IWB Holster
The Well Armed Woman is a company that makes holsters that are designed for women, by women, created to fit a woman's body.
They have a variety of carry options but their best seller and most known holster is their IWB holster that comes in over 40 colors!

After wearing this holster in a variety of settings, with a variety of outfits I have found it to be the best IWB holster I have tried to date.

Let's take a look at what makes this holster stand out:


ADJUSTABLE:
I have a small frame and need an IWB holster that is slim and will adjust to my needs without having to constantly fight with it.
This holster provided exactly that. It comes with an adjustable clip with 3 settings, for both height and cant, allowing me to get the custom fit I need for my frame and position I carry.
With its adjustable ride clip, I get to choose how high or low I want to carry, and with its adjustable cant, I can get the perfect angle for the perfect draw.
SLIM:
This holster lies so flat and is so slim, with no extra bulk that, even on small frames, it will go undetectable making for perfect conceal-ability.


FASHION vs. FUNCTION:
I don't want to sacrifice fashion for function, so I was pleasantly surprised when I saw the adjustable, deep tuckable clip that would work for any waistband, with our without a belt.
I was also able to tuck in any shirt thanks to this adjustable clip.
This holster worked for ME and my wardrobe, not the other way around.

MATERIAL:
Kydex holsters are fit to your firearm, giving ultimate retention so you have the confidence that your gun is secure and will stay put. (see below for any kydex fit issues)
Kydex is also traditionally known for their rough edges, often making carrying uncomfortable, but TWAW IWB holster provided exactly what their website promised: "smooth, with no sharp or protruding edges!"
This holster has been trimmed and smoothed to perfection; making it so comfortable I never noticed it throughout the day.

SECURITY/SAFETY:
This holster isn't' going anywhere.
After trying it in a variety of settings, with a variety of pants I am convinced that when I clip this on, it is staying until I take it off, not matter what I am doing.
With the optional UltiClip I can wear it with thin wasted pants (leggings) and it is just as secure as with jeans and a belt (I highly recommend the purchase of the UltiClip!)
This holster completely covers and protects the trigger and magazine release, giving me the confidence I need to wear all day without worry.
CUSTOMER SERVICE:
One of the greatest benefits I found with this holster is the customer service that comes with it.
TWAW doesn't just make a great product, they stand behind it.
As with any kydex holster, some initial adjustments might need to be made to get the perfect custom fit for your gun so you can carry with confidence. Upon receiving this holster, if the fit feels too tight or too loose on your firearm TWAW will walk you through how to make adjustments to get the perfect fit!
They are always on the other line ready to help.

THE COMPANY:
The Well Armed Woman is a company that not only makes holsters that are designed for women, by women, created to fit a woman's body; but they are also a resource for gun owners, having chapters all around the country that equip women with the knowledge, training and information they need to carry with confidence and safety.
The founder/owner, Carrie Lightfoot has a heart to prepare women and provide them with the resources they need to protect themselves and their families.
When you purchase a WAW product, you are becoming a part of something much greater; you are helping to protect our rights to carry, our rights to defend and you are helping to educate and train women to carry safely and properly.
If you are looking for an IWB holster that is a step above the rest, offering security and comfort, this hostler is for you.

You can find it and many other WAW products here:
*for the review I used the Well Armed Woman IWB holster fit for a Reuger LCP2
*the holster in the pictures is featured in Designer Series by Carrie Lightfoot -Empowered